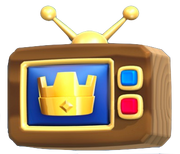 "TV Royale contains some of the best games played recently. Watch and learn!"
TV Royale is unlocked at the Goblin Stadium (Arena 1). It showcases highlighted battles between two players in the game. TV Royale is a place for players to see replays of close battles.
Replays and Channels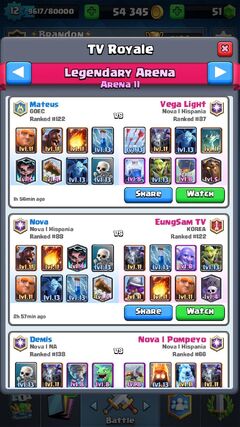 A new TV Royale replay is added to each channel every hour and a battle replay will disappear from TV Royale after 24 hours, so the maximum number of replays in a channel is 24.
Generally, battles in TV Royale are upset matches, three crown draws, battles including unusual decks, and close calls. The Legendary Arena (Arena 15) channel also includes many top player matches.
TV Royale has 15 channels, 1 for each Arena. This allows the player to view battles of different levels.
Information Displayed
The competing players, their Clan, and their battle deck is shown.
How many players have watched the replay.
The time when the battle was posted on TV.
Once watched, whether finished or not, a replay will turn gray. "Watched" will appear at the top as well as the results and the number of Crowns gained by both players.
History
Trivia
If you have notifications enabled, you will be notified when a clanmate's battle is featured in TV Royale.
You can view the stats of Cards you haven't unlocked in TV Royale or a different level of a card than the one you have.
On 7/6/21, the June Update added two new Arenas, the Rascal's Hideout (Arena 13) and Serenity Peak (Arena 14). However, Legendary Arena (Arena 15) is still displayed as Arena 13 (though it is correctly sorted in chronological order).