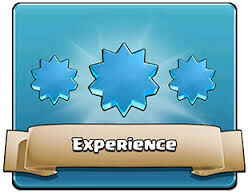 "King Level indicates the strength of your king and towers."
The amount of Experience points a player has determines their King Level. King Level indicates the level of the player's Crown Towers. Experience cannot be gained by simply battling. Experience is gained by upgrading cards and donating cards to clanmates. Experience gained from donations vary based on the card type donated (1 Common card is worth 1

, 1 Rare or Epic card is worth 10

). Experience gained from upgrading cards varies from the rarity to the amount of times the player has upgraded them. You will earn more

from upgrading higher level cards. The amount that you earn depends on the level of the card you upgrade.
Unlockables
Level 3 unlocks card donations with Clanmates.
Level 4 unlocks Magic Items, Pass Royale and name changing that can be done at any time afterwards in the Settings menu, the first time being free.
Level 5 unlocks the fourth and fifth deck slots, the fourth slot in the Shop, and partially unlocks the Tournaments section, where a part of the Special Event Challenges are made playable.
Level 6 unlocks Clan Wars and Star Points.
Level 7 unlocks the fifth slot in the Shop.
Level 8 unlocks the sixth through tenth deck slots, card trading with other players, and fully unlocks the Tournaments section.
Level 9 unlocks the sixth and final slot in the Shop. This is also the max level a player can be in Challenges, also known in-game as Challenge level. The term "Tournament Standard" is still widely used, even though there are Global/Private Tournaments that do not cap at level 9. If the player's level is any higher, it will be brought down for Challenge matches, ensuring a fair battle.
Level 10 unlocks Crates that only contain Gold, which replace Silver and Golden Chests in the cycle.
After reaching Level 14 any Chest can contain any Champion.
History
On 11/1/16, the Experience needed to reach level 9 from level 8 was increased by 25%.
King Level 13 was added in 3/5/16, the May 2016 Update.
On 5/12/18, the December 2018 Update added Star Points for excess Experience when players reach level 13, and retroactively awarded Star Points for previously leftover Experience.
King Level 14 was added in 27/10/21 the Oct 2021 Update. Experience required for level 11 , 12 , and 13 were adjusted.
Trivia
Since the release of the Mother Witch Card, if a player upgraded every card to Level 9, they would reach King Level 10 with 12,478 excess Experience, assuming they have never donated or completed any Achievements before their removal.
If they upgraded every card to Level 13, they would reach King Level 13 with 206,578 Star Points, also under the above assumption.
Statistics
| Experience Level | Princess Tower Hitpoints | King's Tower Hitpoints | Crown Tower's Damage | Experience Needed for the Next Level | Cumulative Experience Needed for This Level |
| --- | --- | --- | --- | --- | --- |
| 1 | 1,400 | 2,400 | 50 | 20 | 0 |
| 2 | 1,512 | 2,568 | 54 | 50 | 20 |
| 3 | 1,624 | 2,736 | 58 | 100 | 70 |
| 4 | 1,750 | 2,904 | 62 | 200 | 170 |
| 5 | 1,890 | 3,096 | 67 | 400 | 370 |
| 6 | 2,030 | 3,312 | 72 | 1,000 | 770 |
| 7 | 2,184 | 3,528 | 78 | 2,000 | 1,770 |
| 8 | 2,352 | 3,768 | 84 | 5,000 | 3,770 |
| 9 | 2,534 | 4,008 | 90 | 10,000 | 8,770 |
| 10 | 2,786 | 4,392 | 99 | 20,000 | 18,770 |
| 11 | 3,052 | 4,824 | 109 | 35,000 | 38,770 |
| 12 | 3,346 | 5,304 | 119 | 50,000 | 73,770 |
| 13 | 3,668 | 5,832 | 131 | 80,000 | 153,770 |
| 14 | 4,032 | 6,408 | 144 | N/A | 233,770 |